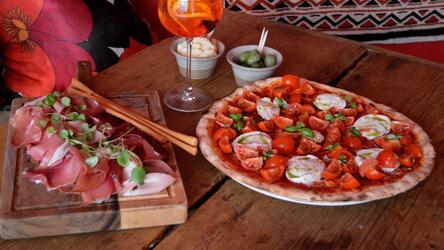 Da Paolo is a cosy Italian restaurant with an old-world feel, in the heart of London's Soho. Serving classic dishes that use fresh, locally sourced ingredients, to perfectly situated al fresco tables out front, this picturesque eatery gives the feel of eating on the sun-dappled streets of Italy, without leaving the city! Tasty starters of bruschetta, caprese, and sardines pair fantastically with the expertly chosen regional wines. Once that has eased into the warm atmosphere, tuck into famous Mediterranean main courses of sea bass, tuna and swordfish, and pastas like tagliatelle and ravioli, paired with delicious fresh ingredients; from herbaceous sage and spicy ginger to virgin olive oils and rare truffles.
Book Da Paolo to taste the Mediterranean in the heart of London's Soho on TheFork
Locanda Ottoemezzo, West London
Locanda Ottoemezzo, in London's upmarket Kensington, is highly worth a visit next time you find yourself in the city's West. With a quieter, more timeless vibe than the hip and bustling East End, this Italian fine-dining restaurant on Thackeray Street is the perfect spot for a sophisticated lunch or supper with friends or a date. Their list of luxury pastas and risottos will make your mouth melt. Think spaghetti with lobster in white wine sauce, or ravioli with slow-braised cheek of beef, doused in fresh truffles. Locanda Ottoemezzo is something of a seafood specialist, and regional staples of sea bass and squid are complemented by seasonal catches of the day, fresh from the grill. Don't forget a creamy Italian dessert of tiramisu, crostata and gelati of all flavours.
Book now to enjoy 2 courses with dessert at Locanda Ottoemezzo for £30 on TheFork
Villa Di Geggiano, West London
Villa Di Geggiano, a romantic restaurant in London's West, is the perfect place to spend a luxuriant evening date, or a day in the sun with friends. Offering unrivalled al fresco surroundings, this picturesque villa has a list of glowing accolades, and an even longer list of delicious Tuscan wines, from their own vineyard and beyond. Sit with your chosen company at round tables in a courtyard draped in ivy, as you enjoy spotting the who's who among the well-heeled Kensington crowd. Talk the day away as you enjoy delicious home-made pastas, like spaghetti with king prawns, or Tuscan wild boar pappardelle, as well as delicious meat and fish secondi from the grill. Gorgeous regional ingredients are found throughout a dessert menu offering traditional tiramisu, biscotto and panacotta.
Book to enjoy Italian food al fresco at Villa Di Geggiano on TheFork
Gustoso Ristorante & Enoteca, Central London
Situated in London's Pimlico, a short walk from the famous Westminster Cathedral, Gustoso Ristorante & Enoteca is a modern trattoria serving delicious Mediterranean food from their modern exposed kitchen. With a passionate and knowledgeable team, the menus at Gustoso are packed with fresh, seasonal ingredients and specials. Enjoy delicious vegetables from the harvests of Italy, like aubergines baked in parmigiana, or broccoli cooked with chili, as well as rocket, spinach, beans and shallots. For hearty mains, look no further than the slow-cooked pork belly served with apple-sauce, or a cuttlefish risotto spiced delicately with rare saffron. For a taste of the sea, the fried squid with creamy n'duja sauce and lime will transport you right to the Mediterranean.
Book Italian fine-dining at Gustoso Ristorante & Enoteca on TheFork
Manuel's Restaurant and Bar, South-East London
The delightful Manuel's Restaurant and Bar of Norwood, a neighbourhood favorite serving fine Italian and Mediterranean cuisine. Located near the famous Crystal Palace, this eatery, run by passionate chef Manuel Jardim Goncalves, is a destination in itself. Sit yourself in the flowered garden courtyard by day, or seat the entire family at the generously sized long-tables for the evening. For starters, expect to enjoy classic bruschetta and seafood soup as well as cured Italian meats, and refreshing melon served with ham. As well as the impressive array of meat and fish served from the grill, the list of pastas and risotto exudes flavour and freshness, with delights like the linguine with lobster, or the homemade and vegetarian-friendly gnocchi.
Book your unforgettable evening at Manuel's on TheFork
La Collina, a welcoming family restaurant near the beautiful Primrose Hill in North London is well worth a visit for those seeking a taste of Italy. Soak up Mediterranean ambience in their decked garden, as you use warm bread to soak up delicious olive oil and succulent juices from one of their many impressive main dishes. Regional delicacies such as pan-fried polenta and wild-picked mushrooms set the tone for the seasonal fare on the menu. Just imagine fettuccine with clams and romanesco broccoli, or baked sea-bream with fluffy potatoes and served with slices or orange. Elsewhere on the menu, classics like chicken Milanese complement inventive Italian creations like the n'duja gnocchi with burrata. Traditional Italian desserts are the cherry on the top of a perfect meal at La Collina.
Book La Collina to enjoy the finest Italian food near London's Primrose Hill on TheFork
Bella Roma, near the vibrant neighbourhood of Lewisham, is a local favorite that serves sizzling contemporary Italian cuisine from breakfast to supper. From Italy's bustling capital to the streets of South London, expect to find all the classics of an eatery in Rome, from stone-baked pizza to generous servings of pasta, through to the refreshing Italian wines. Starters offer seafood aplenty, which is good news for those who like their sides pesci. Bianchi fritti served sprinkled with lemon and mixed leaves are a deliciously salty hit of the sea's flavour, while prawn cocktail di gamberi is a refreshing summertime classic. Vegetarians can enjoy the simplicity of the Mediterranean diet with gnocchi paired with delicious fresh tomato and mozzarella. The signature beef ragu, served in familiar favorites from the lasagne to the spaghetti bolognese, is a must-have for meat eaters.
Book a slice of Rome in South London at Bella Roma, with 40% off food on TheFork
La Pizzeria Italiana, South London
La Pizzeria Italiana, a casual and contemporary dining spot in trendy South London is a must-try for lovers of good quality food at good value. With laid back surroundings that aren't too pretentious, this hidden gem is tucked intriguingly into an eye-catching brutalist office block, and serves what many call the best pizza in London. High praise, but the many positive reviews out there really testify to the quality. If you fancy something to follow up your pizza, the pasta is just as good. Keep it simple with the vegetarian penne all arrabiata, with fresh garlic and basil, or go for a creamy penne maria, with bacon and wild mushroom, or go all out linguine with clams in a white wine sauce. The desserts, like tiramisu and tartufa, are all home-made at La Pizzeria, and aren't to be missed.
Book delicious pasta, pizza and homemade Italian desserts at La Pizzeria Italiana on TheFork
La Cantina Sociale, East London
La Cantina Sociale is a buzzy, cool, contemporary spot in the wonderfully diverse area of Bethnal Green. Recognisable for its cantina-style yard and sloped iron roof, this hangout is right on the crossroads of some of London's hippest neighbourhoods and creative quarters. With a pleasing array of dishes to suit carni, pesci and vegetarian diners alike, La Cantina Sociale is the perfect place for dinner after a day at nearby Victoria park. From classic meatballs to freshly-filled focaccia bread, to aubergine parmigiana and beef carpaccio, the dishes here don't dissapoint. Despite the laid-back communal wooden benches, this place delivers even the highest expectation. La Cantina cooks to such a standard that they have now launched their own in-house brand of ingredients and condiments - the perfect way to take a taste of Italy home after your meal!
Book now to be wined and dined by the team at La Cantina Sociale on TheFork
Da Franco Restaurant, North London
Da Franco Restaurant, one of the longest-established Italian restaurants in London's North, this traditional eatery has been in business since 1981. It has been known as a warm and friendly local spot ever since, run by the family to this very day. With a humble focus on the best quality food and well-selected wines in a welcoming atmosphere, Da Franco's is a great way to kick off our list of London's ten best Italian restaurants. On the menu here you can expect to find hearty Italian classics; crispy comfort foods like the calamari fritti, or signature Pollo Da Franco get the textures and flavours just right. Taste the Mediterranean in flamboyant dishes like the branzino al forno, a whole-baked sea bass served with steaming sauteed potatoes.