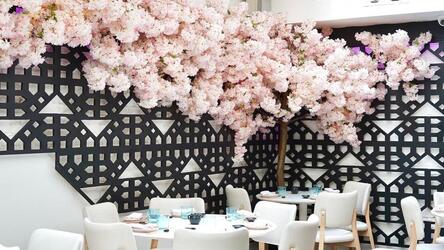 Yuu Kitchen, on East London's hip Commercial Street, is a specialist small-plates restaurant offering an explosive journey through the flavours of Japan. Visit and you will find chef Jon de Villa, who mastered his trade at the famed Nobu, manning the kitchen. Diners can enjoy watching his workmanship on full display in their modern, exposed kitchen. Jon's menu is reassuringly short - a testament to the freshness of the ingredients he cooks with - but it still manages to cater to customers of all moods. When looking for an exciting lunchtime treat, the signature Bao, a fun and casual fan favorite of meat and fish wrapped in steamed buns, are sure to please. Culinary creativity can be tasted throughout, in inventive delights like the 7-UP braised pork belly, and the crispy White Miso and Smoked Salt Popcorn. Ice cream Bao and mochi for dessert round off an authentic but modern Japanese dining experience.
BOOK Yuu Kitchen's inventive Japanese cuisine 
Tokyo Sukiyaki Tei offers a homely and traditional style of Japanese cooking, perfect for those seeking authentic flavours. Walk between the flower baskets up welcoming tiled steps, as you enter this hidden gem near West London's Sloane Square. While Tokyo Sukiyaki Tei is on the higher side of our price range, diners to this sushi restaurant rarely leave disappointed. Creative starters like Wagyu gyoza and the Dashimaki Tamago make way for expertly cut sashimi and sushi rolls. If sushi isn't taking your mood, enjoy delicious marbled Wagyu beef served in decadent sukiyaki hot-pots.
BOOK Tokyo Sukiyaki Tei for a traditional Japanese experience 
Experience a taste of Tokyo's Ginza district at the elegant Ginza St James', a high-end Japanese restaurant offering a harmonious break from the bustling streets of London's Westminster. Named for the words for silver (gin) and guild (za), ginza housed Japan's coin mint, and today is home to top designer and luxury department stores.
Expect this level of refinement to be reflected at Ginza St James', from the tastefully balanced decor to the mouth-watering menu, offering illustrious dishes like the grade A4 Wagyu beef steak or Black Cod Saikyo Yaki Robata. Ginza St James' is renowned for its extensive list of authentic Japanese wines, considered the best in the capital. If you like a little showmanship with your sake, you can dine at the teppan-yaki counter, and watch skilled chefs as they carve and sizzle delicacies right onto your plate.
BOOK your authentic Japanese dining experience at Ginza St James' 
Peter Street Kitchen, Manchester
Manchester's Peter Street Kitchen serves up high-end fusion fare, in the form of Japanese dishes alongside Mexican-inspired small plates. With delicious food to enjoy among hip, cosmopolitan decor, it's easy to see why this innovative restaurant once earned the accolade of U.K.'s best luxury restaurant at the British Restaurant Awards. Housed within a 5-star hotel, The Radisson Blu Edwardian, Peter Street Kitchen is designed in a way that makes for a social atmosphere. Marble tables are complemented by chic loungers that criss-cross between elegant columns and arches, with luxuriant leather seats big enough to be shared comfortably with company. This makes for the perfect spot to relax after indulging in the delicious Japanese Tacos, filled with delicious Tuna, Salmon or Sea Bass Sashimi.
BOOK the award winning Peter Street Kitchen
Myra's Kaiseki is run by a Japanese team who pride themselves on serving authentic food with skill and passion. Calling Dorchester its home, this hidden-gem is loved as much for it's warm and welcoming atmosphere as it is for its stunning high-end sushi and sake. Seafood is high up the menu at Myra's, with traditionally-prepared dishes like Ebi Prawn Donburi and Hamachi Yellowtail Tuna giving a taste of the real Japan. Diners can enjoy familiar favorites too, like ramen noodle tonkotsu or the crispy Katsu Curry. The highly-regarded staff are knowledgeable and definitely value good service, as the record of great reviews will testify. Whether you are looking for a quiet, secluded date, or a social dining spot to celebrate with your friends and family, the team at Myra's Kaiseki will have you looked after.
BOOK Myra's Kaiseki, Dorchester
SUSHINOEN, in Whitechapel, might be the perfect spot to enjoy genuine Japanese food at a price that's friendly on the pockets. Promising vibes that are cosy and unpretentious, this eatery is definitely worth working into your schedule when exploring London's trendy East End. 'Sushinoen' translates to "sushi in a garden", and this fun, relaxing dining space, modelled on an old-fashioned Japanese cafe, or izakaya, certainly lives up to the name. Priding themselves on using the finest freshest ingredients in every dish, the omakase menu at SUSHINOEN offers choice cuts of Sashimi, hand-selected by their team of Sushi chefs. For a more casual evening, street food favorites like vegetable gyoza and yakitori will warm you up for mains of California maki, or crispy tempura with thick udon noodles. If you're in the mood for dessert, classic mochi and Dorayaki pancakes are the perfect snack to send you off.
BOOK East London's best izakaya; SUSHINOEN
Inamo, on Wardour Street, is a forward-thinking restaurant concept near London's Soho area, serving Japanese sushi alongside Pan-Asian tapas-style dishes. Marrying the world of food and technology, their menu can be explored via interactive screens that diners can also use to view the chefs at work, or even play games. The menu's high-tech ordering system isn't the only thing to impress. Delicious dishes like Yuzu pork belly, aubergine katsu curry, go great alongside succulent sides like Popcorn Prawn and vegetable gyoza. Fun adaptations of classic sushi, like their kawaii Dragon roll, are a real crowd pleaser. For those seeking to immerse themselves in the futuristic feel of an interactive Tokyo sushi bar, look no further than Inamo.
BOOK your interactive sushi dining experience at Inamo
Another top destination for Pan-Asian cuisine is Cocochan in St James', an appealing destination to stop at on your way to the green parks and leafy streets of West London. Easily recognisable by it's classic awnings and al fresco seating, Cocochan is an oasis away from the bustle of some of London's best shopping streets. Specialising in cooking sous-vide, Cocochan put gastronomic excellence into every single dish. From the Gai Yan butterfly chicken to the mushroom dumplings, Cocochan pays attention to detail, and finds the perfect subtleties between dishes from across the Asian continent. Enjoy that with a chilled glass of Champagne and decadent desserts ranging from light sorbets to dark mousses.
BOOK to enjoy Asian food al fresco at Cocochan
 Rock Star Sushi Bar, London
Rock Star Sushi Bar is an innovative restaurant concept putting Sushi on the map in the pretty suburbs of South London. Enjoy simple, traditional Japanese dining in the idyllic surroundings of Merton Abbey Mills, an up and coming space that also houses art workshops and theatre productions. Serving their Sushi in the moriawase style, prepare to be treated to large platters of nigiri and maki, perfectly sized to enjoy with friends and family. The term moriawase translates to "trust the chef", and you can certainly do that in the skilled hands of Igor Salgado, Rock Star Sushi's resident superstar. Igor's food tells a fascinating story of the relationship between Japan and Brazil and their historical cultural ties. With a dedication to freshness, Igor starts his days early, preparing each individual dish he serves, from seasonally sourced fish from the best local markets.