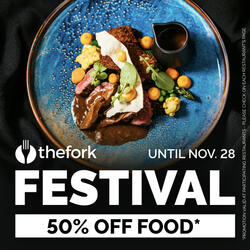 L'Artigiano Restaurant, Chelsea
The food at L'Artigiano will impress lovers of contemporary Italian cuisine. From the antipasti right down to the desserts, chef Ignacio Ruggiero creates dishes with passion and flair. Expect to sample the tastes of the Mediterranean with a very modern twist. Halibut with chili is served with delicate gels of green tea and lime, and the roasted octopus is served in a saucy rum gel, infused with orange air and a whip of passion fruit mousse. If your taste for the sea is not yet quenched, move on to mains of monkfish crusted in lavender, or sea bass chopped with lardons and mussels atop a crunchy salad of cauliflower and coriander. The menu runs deep with deliciousness; home-rolled gnocchi with duck, alongside classic beef lasagne and succulent sirloin with hand-cut chips. With an expertly curated wine list to explore while you dine, live la dolce vita at this London Italian.
Whitechapel is home to Yuu Kitchen, a hip small-plates restaurant from former Nobu chef Jon de Villa. Expect to find a fun menu of modern dishes from throughout the East and South East of Asia, such as their speciality; Bao, a hip and high-end treat of steamed buns filled with glazed pork or crab. Start with a snack of edamame beans, and popcorn popped in an addictive rub of white miso and smoked salt. Other inventive pairings - like pork belly braised to a sticky succulence in 7UP, tostadas of raw tuna-fish, and fries served with crunchy Korean kimchi - make this a paradise for lovers of pan-Asian fusion. Explore this explosive menu for less now that Yuu kitchen has joined TheFork festival.
Good Godfrey's at The Waldorf Hilton, Aldwych
Come and enjoy an evening under the lights of The Waldorf Hilton, at Good Godfrey's; a classic British fine-dining location in London's theatre district. With its historic building and flash frontage, you can experience the luxury of this famed Hilton hotel restaurant as part of TheFork's festival of food. The kitchen here is headed up by executive chef Karl Richardson, a child prodigy who has learned his trade at Hilton's hotels since the tender age of sixteen. Now the man in control of the kitchen, Karl brings his passion and experience to every corner of the menu. Sharing is encouraged, and platters offer up delicious treats of seafood, cheese and charcuterie. Expect characteristically rich fare, like steak served with shallots and drizzled in French Café de Pairie butter.
Pastas, pizzas, antipasti and more draw diners to Bella Roma, a fantastic family-friendly restaurant in London's Lewisham. The dining room exudes modern Italian sophistication; a welcoming space where you can sit alongside all the friends and family before gorging on comforting dishes from the heart of Italy. With a focus on simple, familiar recipes that use freshly paired ingredients, you can enjoy delicious pastas like spaghetti bolognese or lasagne as you sip your choice of red wine from the chalkboards overhead. Vegetarians aren't left off the table, either. Hand-rolled gnocchi is served simply with tomato and mozzarella, and fried arancini balls of rice provide a crunchy bite - fantastic when drizzled in some home-made ragu.
In Holborn, London's museum district, lies a hidden gem that serves some of the best pasta dishes in the capital. Pane Cunzato is a small restaurant, but considered a well-loved secret among the city's Italian inhabitants. Specialising in bringing the taste of Sicily to the streets of central London, this neighbourhood gem is highly worth working into your itinerary during TheFork's festival. For such an intimate place, the menu is impressive. A whole range of appetizers set you on course for a flavourful experience; from the decadent arancini balls with bolognese and mozzarella cheese, to vegetarian delights like pecorino with truffle or roast aubergine with parmesan. The main courses, if you have room, will take you on a journey from one fresh regional ingredient to the next.
Sixes Cricket, Fulham
There's a sporting good chance you'll find something that will hit you for six on the menu of this cricketer's clubhouse in Fulham. Known for the fun interactive batting games that take place inside, this unusual spot is also host to one of the best pub lunches you can find in the city. Lovers of hot, hearty treats will be able to find a taste of the country at Sixes, in the leafy South West London borough. Sliders of sticky ox cheek are served decadently alongside crispy macaroni croquettes, with towering beef burgers and delicious beef brisket served with bone marrow drippings. It's game on for vegetarian players too, who can enjoy harissa grilled aubergine with lentils, or the famed vegan burger.
To this airy, modern Thai restaurant next, in West London's Chiswick. With its high ceilings and ornate detailed white walls, this stylish restaurant promises traditional folk cooking with a modern delivery. TORTHAI will delight any lover of fragrant, spicy and succulent Thai cuisine, and are especially worth a visit now they're a partner of TheFork festival of food. For starters, expect Thai street-food staples like the satay chicken skewers, duck rolls and vegetable spring rolls, that are great to share - but even better to yourself. Delicious soup and rich, spicy curries follow, like the Thai green curry, with fragrance levels off the charts. If you're really hungry, check out the grilled and stir-fried section of the menu, you certainly won't leave disappointed.
Firebrand Pizza, Clerkwenwell
Enjoy classic stone-baked Italian pizza in stylish surroundings at Firebrand Pizza, in London's Clerkenwell. With its inviting al fresco dining options, and it's cosy intimate indoor tables by the oven, this Italian hangout is worth visiting whatever season it is. Serving pizza with pizzazz, the staff here are well reviewed for their attentive and kind service, and the fact they know how to make a mean cocktail! The main event here is an extensive pizza list that will have you in a dilemma as you choose between delicious combinations. You could have the spicy salami with red peppers and rocket, or you could double down and opt for the n'duja sausage and salami with mushrooms. Vegetarians are spoiled for choice also, with deliciously fresh leafy pairings like aubergine with courgette and mushroom, or a taste of the forest with sweet potato, pesto and pine nut.
TDQ Steaks, Lambeth
This modern new waterside steakhouse on the Lambeth's Albert Embankment is a must-visit for South London's lovers of prime cuts and rare meats. With a focus on their well-curated range of imported steaks, TDQ will be a new experience for even the most well-seasoned cutlet connoisseurs. Classic cuts of famous graded beef like Canadian Angus and Scottish Black Gold are dished up alongside more adventurous fare like Bison steak. For something lighter, the Lobster Bisque and the Shrimp Crostini serve up the flavours of the sea. Perfect to pair with your main for a surf n' turf extravaganza, as you while away the afternoon on the banks of the river Thames.
The Restaurant at The Capital, Knightsbridge
This sparkling modern dining room in upmarket Knightsbridge is the last on our list, but by no means the least. Housed within 5-star luxury hotel The Capital, near the famous Harrods department store, this decadent restaurant is now opening up its doors to TheFork's festival of food. There's never been a better chance to try a taste of luxury for less at The Restaurant at The Capital. Dishes are deliberately decadent here, you'll be pleased to know. The mac n' cheese starter is given a posh makeover with truffle oil and parmesan. Cauliflower florets are crisped into Korean style wings and served with shallots and a deliciously authentic hot sauce. Small plates such as the ham hock and tuna tartare are offset by freshly made salads and dishes of fragrant greens, like the superfood salad, or heritage tomato with buffalo mozzarella.