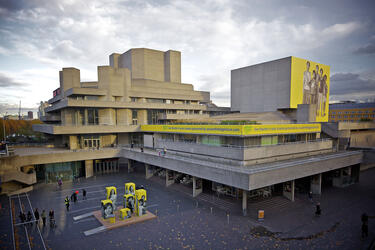 The Top 5 Best Restaurants near the National Theatre
London's South Bank is a stunning riverside setting for any day out, especially with the iconic National Theatre at its heart. If you're having a hard time deciding where to eat, take a look at our pick of the best restaurants near the National Theatre for that pre or post-theatre treat.The National Theatre is a South Bank cultural cornerstone, showcasing everything from celebrated Shakespeare productions through to award-winning contemporary plays and live broadcast events, with various outdoor areas and terraces to enjoy riverside views. Take a look at our pick of places to eat near National Theatre.
1. OXO Tower Restaurant 
British, 400m from National Theatre (5 min walk)
A South Bank landmark, OXO Tower Restaurant is one of the most iconic places to eat near National Theatre. With views of St Paul's Cathedral, diners are treated to inventive British recipes alongside a wine list with over 800 vintages. Classic afternoon teas are a real treat here, while the OXO martini trolley offers a theatrical twist with talented staff mixing up drinks at your table.
2. Sticky Mango 
Asian, 280m from National Theatre (4 min walk)
Overseen by celebrity chef Peter Lloyd, Sticky Mango is an intimate venue to sample modern takes on traditional Southeast Asian street food. The small plate recipes are perfect for groups to share, with special tasting menus offering a great selection for pre theatre dinners.
3. Savoy Grill – Gordon Ramsay 
British, 800m from National Theatre (10 min walk)

A glamorous London dining institution, Savoy Grill is overseen by world famous celebrity chef Gordon Ramsay. Diners are treated to jaw-dropping Art Deco surroundings and gourmet takes on classic recipes, while the selection of pre and post-theatre menus are perfect for National Theatre visitors looking to really treat themselves to something special.
4. Brasserie Blanc – South Bank 
French, 10m from National Theatre (1 min walk)
Celebrating classic French dishes inspired by world famous chef Raymond Blanc and his travels through North Africa, Asia and the Americas. Brasserie Blanc is perfect for a casual pre-theatre dinner as there is something on the menu for everyone. If you don't have a 'taste for adventure' then you can tuck into great steaks, burgers, fishcakes and awesome desserts all with the bustle of the South Bank just outside.
5. The Yacht London 
British, 800m from National Theatre (10 min walk)
A truly unique London dining venue, The Yacht London is moored on the banks of the Thames, offering views of National Theatre across the Thames. This restored 1920s boat also boasts a chic Art Deco cocktail bar, with space out on deck to enjoy drinks in the sunshine. Classic British fine dining recipes are given thoughtful European tweaks on the menu, and on Sundays there are generous roast dinners too.