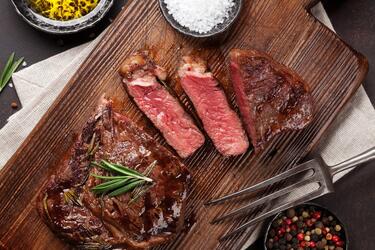 Top 5 South African Restaurants in London
Boasting a unique history and beautiful landscapes, South Africa is having a moment: with places to enjoy the country's diverse cuisine found dotted across London. Their colourful dishes, with their seasoning and spices, are on our radar, and the taste of South Africa can now be found in the heart of London. Experience the taste and sights of this vivid nation at any of these restaurants for a truly one-off dining experience.
1. The Meat Co, Westfield  
For a taste of genuine South African cuisine, look no further than The Meat Co, situated in London's Westfield shopping centre.  Established in 2000, The Meat Co provides a relaxed dining experience while bringing traditional South African dishes to the global population, with branches everywhere from Africa to the Middle East. Decorated in warm hues of terracotta and mustard, this Westfield dining space brings with it an African vibe far removed from the dizzying streets of London, with comfortable sofa seating and an exposed brick interior. Red and yellow lighting provide an ambient mood. Menu specialties straight from the rainbow nation include traditional African sausage, accompanied by chakalaka sauce and served on a bed of polenta, and marinated kangaroo fillet served with potato gratin and redcurrant jus. For those with a more traditional palate, The Meat Co offers a fantastic beef selection, with Chilean Wagyu rib-eye very much a favorite.
The Meat Co
Opened in 2010 with a special royal blessing from the Zulu King, HRH Goodwill Zwelithini, Shaka Zulu is London's largest South African restaurant. Situated in the Stables Market in Camden, the impressive 27,000 sq ft dining space pays the ultimate homage to its African roots, with carved wooden murals covering the walls, magnificent tribal statues, and an array of seating upholstered in printed fabrics. Visually striking in décor and with a well-seasoned menu to boot, diners will be taken on a sensory African journey and can immerse themselves in the whole experience, visiting South Africa, Botswana, and beyond without ever leaving London. Shaka Zulu's menu takes inspiration from the African tradition of barbecued food, offering a range of regional grills such as ostrich, zebra, and buffalo. Main dishes include crocodile and beef potjie served with Cape Malay yellow rice, and loin of springbok served with red wine jus.
Shaka Zulu
With sites in Farringdon and London Bridge blends European and South African flavors with an impressive wine selection. South African bottles lead the wine list, with the likes of zebra, kangaroo, and springbok appearing on the menu. Vivat Bacchus is also home to its own cheese room, featuring around 35 cheeses from several countries.
Vivat Bacchus
4. Bunnychow
A bunny is essentially a little loaf with a lid, crammed with big flavors, including bobotie and rich curries. Originally from the sweltering coastal city of Durban in South Africa, the bunnies have hopped over to the much chillier London. After selling the African-Asian creations from a truck in Brixton, Bunnychow owner Antholl Milton has now opened an indoor spot in Shoreditch, in a wonderfully improvised setting inside converted shipping containers. Think beanbags, a few tables, and the smell of sweet curries wafting through the place.
Bunnychow
Offering diners stylish surroundings and sumptuous simple food, bbar, located directly opposite Buckingham Palace in the heart of London's Victoria, has easy dining down to a T. With giraffe leather booth seating in the restaurant and black leather armchairs in the bar, bbar's décor is a seamless blend between the quirky and the sleek. Red lamps provide a sultry glow, and menu specialty prime cuts are served up on wooden boards, giving the South African menu a rustic, bistro vibe. bbar's menu boasts a great selection of African-inspired dishes to satisfy even the fussiest palate. Light dishes include Peri-Peri chicken liver served with cornbread and braai grilled lamb brochette, with a rocket, feta and sundried tomatoes as an accompaniment. The wild boar and venison burger, served with fried quails eggs and Chakalaka relish, promises Londoners a taste of the exotic.