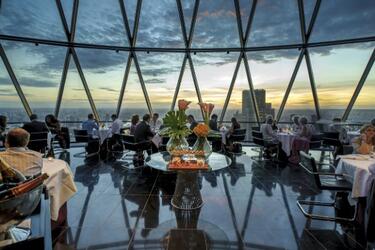 Top 50 Best London Restaurants With A View
What better way to absorb the sights and sounds of the capital than from one of the many London restaurants with views? Luckily for locals and tourists alike, the capital serves up some of the finest culinary treats the world has to offer, often with views to dine for. So whether you are gazing at Tower Bridge from above, looking over Big Ben while sipping on afternoon tea or watching the setting sun outline St Paul's, London has a wealth of restaurants boasting some of the world's finest city views to enjoy with a drink in hand.
CITY OF LONDON
Helix at The Gherkin BOOK SEARCYS
The City
Searcys | The Gherkin
From the 39th floor of one of London's most iconic buildings, Helix offers 360-degree views of the capital. Savour a refined menu of European dishes, 180 metres above the city. Sample the likes of sea bream with brown shrimp, or Gressingham duck breast with raspberry.
Savage Garden BOOK SAVAGE GARDEN
Tower Hill
Savage Garden
A sultry hangout up on the 12th floor of the DoubleTree by Hilton Tower of London, Savage Garden is of London's most spectacular rooftop bars. Eclectic light bites through to hearty international feasts can be found on the Savage Garden menu, with everything complemented with an extensive drink line-up.
City Social BOOK CITY SOCIAL
The City
City Social
From multi-award winning Jason Atherton, City Social sits on the 24th floor of the iconic Tower 42. Art Deco interiors are set against a backdrop of the City skyline, with modern British and European dishes making up the menu.
Madison BOOK MADISON
St. Paul's
Madison
Boasting panoramic views over St Paul's Cathedral, the London Eye and the Tate Modern, Madison restaurant has spectacular views of the London city skyline. Set atop the iconic One New Change building, the venue is home to one of Europe's largest open-air roof terraces. Serving modern European dishes using regionally sourced produce and with a cocktail menu to boot, Madison makes for the perfect evening overlooking London's oldest landmarks.
Coq d'Argent BOOK COQ D'ARGENT
Bank
Coq d'Argent
For classic French cooking, look no further than Coq d'Argent. Situated in the heart of the Square Mile and nestled on top of No.1 Poultry, Coq d'Argent offers enviable views of St Paul's and Mansion House, whilst taking in the greater skyline from its heated, covered rooftop terrace; perfect for al fresco dining all year round.
Quartier BOOK QUARTIER
Moorgate Quartier
With leather armchairs and mahogany flooring, Quartier restaurant serves a contemporary British menu in modern and stylish surroundings. Situated on the first floor of members-only Moorgate Club, the restaurant enjoys spectacular views of the London city skyline. Ideal for afternoon business lunches with its du jour menu,  evening diners can enjoy a glass of wine on the wraparound terrace before and after dining to soak up those stunning views.
Fenchurch Restaurant at Sky Garden BOOK FENCHURCH RESTAURANT
Fenchurch Street
Found atop London's mammoth Sky Garden (aka the 'Walkie Talkie' building), Fenchurch Restaurant teams high-end British cuisine with jaw-dropper views. St Paul's Cathedral, The Shard, the gentle snake of the Thames: catch them all from your sky-high table.
Darwin Brasserie at Sky Garden BOOK DARWIN BRASSERIE
Fenchurch Street
Darwin Brasserie
Image source: Sky Garden
20 Fenchurch Street, otherwise known as The Walkie-Talkie, is now home to a public gardens and a fleet of eating and drinking establishments. On level 36, Darwin Brasserie offers seasonal British fare and of course, some of the best views in town.
Duck & Waffle
Liverpool Street
Duck & Waffle
Duck and Waffle restaurant epitomises cosmopolitan dining at its very best. Adopting a bistro-esque interior with leather booth seating and an open kitchen, the restaurant is flooded with natural light allowing for spectacular 40th-floor views over the City and beyond. An Anglo-French menu offers a contemporary take on traditional dishes,with a great selection of serving plates and artisan cocktails available.
SushiSamba
Liverpool Street
SushiSamba
Offering a unique blend of Japanese, Peruvian and Brazilian cuisine, SushiSamba have a passion for tri-cultural music and design, and its first international location is perched on the 38th and 39th floors of London's Heron Tower. With spectacular restaurant views of the City, SushiSamba's London branch also boasts an outdoor Tree Bar and a vibrant contemporary interior. Sushi dishes offered on the extensive menu include octopus, black cod and coconut rice.
WEST END OF LONDON
The Rooftop St James BOOK THE ROOFTOP ST JAMES
Trafalgar Square
The Rooftop St James
One of London's finest rooftop bars, Rooftop St James serves creative cocktails and international light bites with the city skyline as a backdrop. Enjoy an Alpine-inspired menu from 3 dining areas: the deck conservatory, the canopy-covered gallery with heaters and blankets or glass-walled 'room'.
Galvin at Windows BOOK GALVIN AT WINDOWS
Mayfair
Galvin at Windows
This French fine dining restaurant is situated on the 28th floor of London Hilton on Park Lane, Mayfair. With 360-degree views over the London city skyline, Galvin at Windows allows for panoramic views over Hyde Park and Buckingham Palace. With its interior evoking images of the 1930's golden age, the restaurant is perfect for night-time views to take in the city lights.
aqua shard BOOK AQUA SHARD
London Bridge
Aqua Shard
London's latest skyscraper has a sky-high restaurant with an incredible menu of equal stature. Located on the 31st floor, aqua shard restaurant offers unparalleled 360-degree views over the capital city. Housing a spectacular three-story glass atrium bar, the stylish restaurant space is complete with peacock feather booths and plush purple armchairs.
Hutong BOOK HUTONG
London Bridge
Hutong at The Shard
Bringing the best of Northern Chinese cuisine to Western Europe's tallest skyscraper, Hutong restaurant, situated on the 33rd floor of The Shard, boasts incredible views over London. Floor to ceiling windows flood the venue with natural light by day, and by night diners can take in the twinkling lights over the whole city below. Luckily, the menu is as fantastic as its Hong Kong namesake, with meat, seafood and dim sum dishes to boot.
OXO Tower BOOK OXO TOWER BRASSERIE
South Bank
OXO Tower Brasserie
Situated in the iconic landmark on the south bank skyline, the OXO Tower restaurant and brasserie offers modern British cuisine with tantalising pan-Asian flavours and boasts incredible views over the Thames and London city from the 250-foot terrace bar. Enjoying an eighth floor location, the fine dining restaurant also has a superb vegetarian/vegan menu, and has experienced sommeliers on-hand to assist in selecting from the 800-strong fine wine list.
Terrace at The Dilly BOOK TERRACE ON PICCADILLY
Piccadilly
The Terrace
Floor-to-ceiling windows flood the Terrace at The Dilly with natural light, allowing for spectacular views over the heart of Piccadilly and the London skyline. With a modern British grill menu, specialities are understandably its meat and fish dishes. The restaurant also pays homage to quintessential English traditions with its own G&T bar, serving afternoon tea with a G&T rather than a pot of Earl Grey, for a unique afternoon tea experience.
Portrait Restaurant  BOOK PORTRAIT RESTAURANT
Charing Cross
National Portrait Restaurant
Standing 92-feet above ground level at the top of the National Portrait Gallery, Portrait restaurant has enviable views of London's landmarks such as Big Ben and Nelson's Column, making it one of the capital's most sought after dining areas. Offering a seasonal British menu with locally sourced ingredients and an extensive cocktail menu, the restaurant is flooded with light from its wall of windows, allowing for those sensational views.
aqua kyoto BOOK AQUA KYOTO
Oxford Circus
aqua kyoto
Renowned Hong Kong based restaurant group aqua's kyoto branch boasts unparalleled views of central London from its fifth floor rooftop terrace. The Japanese restaurant offers diners the chance to escape from London city life with its beautiful interior, featuring dimmed lighting, painted wall murals, plush velvet seating and a huge Japanese lantern centrepiece. Its extensive food and wine menus and in-house sushi bar are guaranteed to meet all dining requirements.
Gaucho BOOK GAUCHO TOWER BRIDGE
Tower Bridge
With its sleek, minimalist décor, it seems only appropriate that Gaucho has a cigar and cognac menu as a side order to the hearty European-inspired grill menu, serving up Argentinian 35-day matured steaks and lobster ceviche, accompanied by rare and fine wines. Situated on the South Bank of the River Thames, the restaurant boasts riverside views of the Tower of London and Tower Bridge. Wine tasting packages are also available.
 Skylon BOOK SKYLON
South Bank
Skylon
Self-proclaimed as the jewel of the South Bank, British brasserie Skylon offers retro dining and a chic cocktail bar from its third floor location. Situated in the Royal Festival Hall, the restaurant enjoys stunning views from Westminster to St Paul's Cathedral through its floor-to-ceiling windows. The elegant restaurant offers both formal and relaxed dining to suit all dining parties, and a tasting menu is also available.
Blueprint Café BOOK BLUEPRINT CAFE
Shad Thames
Blueprint Cafe
In an elevated position above the Design Museum, Blueprint Café has a picturesque riverside position, with views of the Thames, taking in sights such as Tower Bridge and Canary Wharf. Its modern European menu changes seasonally, and is accompanied by an extensive wine menu. The restaurant hosts regular dining and exhibition events, where you can watch the world drift on by after taking in an exhibition in the museum below.
The Swan at the Globe
Bankside
Swan at The Globe
Why not take afternoon tea with a difference? The Swan at the Globe, in the heart of Bankside at Shakespeare's Globe offers a Gentleman's afternoon tea menu, accompanied by a bottle of London Pride instead of a pot of special blend. The kitsch décor includes industrial hanging light bulbs and vintage design pieces. Taking in sights such as the Thames and St Paul's Cathedral, pre and post-theatre dining from the European menu is available.
Roast BOOK ROAST
London Bridge
Roast
Perched on top of Borough Market, Roast offers a calm sanctuary above the hustle and bustle of the market below, accompanied by the notes of the in-house grand piano. With views over the market from the restaurant's huge sash windows that flood the venue with natural light, Roast offers quintessentially English cuisine. Roast is proud to celebrate British farmers and produce, many of whom are stallholders in the market.
Butler's Wharf Chop House BOOK BUTLERS WHARF CHOP HOUSE
Shad Thames
Butlers Wharf Chop House
On the banks of the river Thames, with spectacular views of Tower Bridge, Butler's Wharf Chop House offers seasonal British produce in very English surroundings. The décor is a tribute to an English boathouse, with wooden patio doors opening for al fresco dining. The bar and terraces have been transformed into an English country garden, complete with a lawn, cherry blossom and flowers, making it a unique space for 2012.
St James's Café
St. James's
St James's Café
Providing a natural oasis in the heart of London, St James's Café has stunning views of the plants and ponds of St James' Park. With a wooden cabin design, the casual restaurant offers a light British menu, serving delicious salads, sandwiches and lunch at the hot counter. Take in the wildlife and views of the lake and fountain from the wooden terrace whilst enjoying brunch for an ideal morning.
Amphitheatre Restaurant at Royal Opera House
Covent Garden
Amphitheatre Restaurant at Royal Opera House
Enjoying a top floor location in London's landmark Royal Opera House, the Amphitheatre Restaurant boasts stunning views across Covent Garden's piazza. With a modern international menu that includes seasonal specials, the restaurant's walls are adorned with images from iconic Royal Opera House productions and fresh flowers are found on every table. Open to the public daily, dining in the evening is exclusive to ticket holders for the evening's performance.
RS Hispaniola BOOK RS HISPANIOLA
Aldwych
R.S Hispaniola
Enjoying iconic status on the London dining scene for over 30 years, R.S. Hispaniola is permanently docked at Victoria Embankment. The restaurant boat affords views of the Houses of Parliament and St Paul's Cathedral from the sun terrace and upper deck. Its European menu, which adds contemporary twists to Mediterranean cuisine, is immaculately presented. A resident pianist accompanies dinner three evenings per week, with pre and post theatre dining available.
Dim T
London Bridge
Dim T
Fancy constructing your own Asian dish or watching as chefs create your own dim sum? Look no further than Dim T, the Asian dim sum restaurant with its own Noodle Bar where you can select from a range of noodles, toppings and sauces to cater for individual tastes. Housed on the banks of the River Thames, the restaurant has spectacular views of Tower Bridge through its floor to ceiling windows.
Trafalgar Tavern
Greenwich
Trafalgar Tavern
Image source: London Town
Quirky restaurant Trafalgar Tavern, with its riverfront views, maintains its nineteenth-century vibe through the preservation of many original features, such as its balconies and columns, ceiling coving and sash windows. Offering a traditional English menu, the venue plays homage to its British heritage through its specially commissioned statue of Lord Nelson. With spectacular views of the Thames, Trafalgar Tavern is the epitome of a traditional English public house.
SOUTH WEST LONDON
Thai Square BOOK THAI SQUARE – PUTNEY BRIDGE
Putney Bridge
Thai Square
With award winning architectural design, Thai Square at Putney Bridge offers stunning views over the River Thames. Its exterior resembles that of a ship, with metal beams and tall, glazed windows, and the venue has a chic Thai interior to complement the visual masterpiece. Immaculately presented dishes consist of authentic fresh ingredients flown over from Thailand on a daily basis. Thai Square offers Thai cuisine at its absolute best.
Chelsea Riverside Brasserie BOOK CHELSEA RIVERSIDE BRASSERIE
West Brompton
Chelsea Riverside Brasserie
With its spectacular Chelsea Harbour location, Chelsea Riverside Brasserie's menu consists of British takes on classic dishes using locally sourced ingredients. Immaculately presented, the restaurant's signature dish is line caught sea bass, served with crushed potatoes, baby leeks and lemongrass sauce. With an outdoor terrace, the venue has sensational views of the marina from inside and out through its huge windows. A chic city restaurant if ever there was one.
Rick Stein
Barnes
Rick Stein
During World War II, the venue that now houses Rick Stein served as a barracks for air raid wardens. Now a rustic brasserie maintaining its individual charms with arched sash windows, it has a fantastic summer terrace and conservatory with wonderful riverside views, which is ideal for al fresco dining from the summer lunch menu, serving up treats such as an Indonesian seafood curry and Dover sole à la meunière.
Serpentine Bar and Kitchen
Knightsbridge
Serpentine Bar & Kitchen
Image source: Royal Parks
For a rustic, country feel, head to Serpentine Bar and Kitchen for its modern English and traditional French menu. Dishes are cooked to perfection in its wood-fired oven, representing the best of seasonal food inspired from its garden setting. Highlights include fish finger butties, freshly made pizzas and wild mushroom risotto with artichoke crisps. The restaurant's Hyde Park location boasts an outdoor terrace with beautiful views of the park.
The Wharf
Teddington
The Wharf
Image source: The Wharf
Converted from an old boathouse, The Wharf Teddington enjoys stunning views that take in the lock, the river bend and riverbanks. With a delicious seafood menu offering grilled lobster and Dungeness crab cakes, it also serves up market specials of venison and 35-day matured steak for those not so nautically inclined.
Atmosphere Venues
Millbank
Atmosphere Venues
With a sleek, minimalist interior, Atmosphere Venues is an ideal space for Christmas parties or wedding receptions to remember. Situated in the tallest riverside building on the River Thames, the venue unsurprisingly offers panoramic views of the London city skyline that stretches for miles. The Grade-II listed building offers a total of nine event spaces including restaurants, making it an ideal location for a bespoke events and dinner parties.
Feng Shang Princess
Regents Park
Feng Shang Princess
Created in the 1980s, the Feng Shang Princess is the first floating restaurant of its kind in London. Parked alongside the canal boats in Regents Park, if it wasn't for the stunning greenery outside you could be forgiven for believing you were in Asia, what with the oh-so-Chinese décor of gilt murals on the panelled walls. Fantastically presented dishes and an extensive Chinese menu make it a Londoner's favourite.
WEST LONDON
Min Jiang BOOK MIN JIANG
Kensington
Min Jiang
With views over Kensington Gardens and Hyde Park from its 10th floor location, Min Jiang offers a haven from the bustle of London city life. The traditional meets contemporary Chinese décor is reflected in the menu, with signature dishes including Beijing duck and spicy Sichuan. The restaurant's bar offers a range of Chinese teas and speciality cocktails. A four-course express lunch menu is offered mid-week; perfect for lunchtime pit stops.
The Summerhouse BOOK THE SUMMERHOUSE
Paddington
The Summerhouse
Situated on the Grand Union Canal, The Summerhouse is the perfect summer restaurant, serving up summer salads and fish and chips whilst canal boats go sailing past. Offering a classic bistro menu, the venue maintains its nautical theme through ticking stripe seating, painted wooden panelling and sunflowers in watering cans for that retro riverboat feel. An extensive cocktail menu serves up Pimm's Mojitos and white peach Bellini's among others.
EAST LONDON
Boundary London Rooftop Bar & Grill
Shoreditch
Boundary London Rooftop Bar & Grill
For simple and delicious French cuisine, look no further than Boundary London Rooftop Bar & Grill, which offers regional French food alongside quintessential classics, using seasonal British ingredients whenever possible. Housed in an original Victorian warehouse, the venue has preserved the original brickwork and sash windows. Its rooftop garden boasts panoramic views from Canary Wharf to the Barbican. The rooftop space is equipped with heating, festoon lighting and Welsh blankets to keep you cosy.
Le Pont de la Tour BOOK LE PONT DE LA TOUR
Shad Thames
Le Pont de la Tour
The epitome of elegant refinement, the Pont de la Tour terrace offers stunning views of Tower Bridge. French brasserie-style dishes are joined by one of London's best wine lists, making for the ultimate Parisian-style riverside experience. Discover classics like whole roasted mallard with creamed cabbage, pommes paille, and game jus, or fresh crustacea like grilled lobster with garlic butter.
Vicinity BOOK VICINITY
St. Katharine Docks
Vicinity
The relaxed atmosphere and ambient lighting create an airy space perfect for dining from the modern European menu, reflecting the cultural influences of its head chef. Situated on the north bank of the River Thames overlooking St Katharine's Dock, the restaurant offers stunning views of London's Tower Bridge through the floor to ceiling windows. Its close proximity to Tower Bridge makes it the perfect venue for business and celebration lunches.
River View
Wapping
River View
Serving authentic Chinese cuisine to Londoners for over twenty years, the converted warehouse that is now home to Riverview Restaurant is a spacious venue with a warm and relaxed atmosphere. With an extensive menu, unusual dishes such as satay eels are available for a real taste of China. The restaurant also has a private roof terrace, where the wonderful views of the River Thames and Canary Wharf can be enjoyed.
DOCKLANDS AND CANARY WHARF
Bokan 37 Restaurant BOOK BOKAN 37 RESTAURANT
Canary Wharf
Found on floor 37 of the Novotel London Canary Wharf, Bokan 37 Restaurant offers incredible views of the Thames and famous London landmarks. Mammoth windows frame the greenery of neighbouring Greenwich to one side, and a game of spot-the-landmark to the west. Artful food is mainly British focused, with Guillaume Gillan at the helm in the kitchen, formerly of L'Atelier de Joël Robuchon.
The Narrow – Gordon Ramsay Restaurants BOOK THE NARROW
Docklands
The Narrow
Gordon Ramsay's gastropub The Narrow, serving hearty British grub, is perfect for a relaxed summer evening. Situated on the banks of the River Thames and complete with a river terrace for spectacular views, the restaurant regularly showcases local talent by hosting up and coming musicians with an acoustic vibe. It also prides itself on its selection of guest ales available, making it the perfect country pub in a city location.
Plateau BOOK PLATEAU
Canary Wharf
Plateau
This Manhattan-style space complete with an open kitchen offers a contemporary backdrop to classic French cooking. Nestled in the heart of business capital, Plateau is a sleek, contemporary restaurant with dramatic cosmopolitan views of the glass and steel of Canary Wharf. The restaurant also exhibits art work from local gallery Artisan Fine Art, and holds art dinners and exhibition evenings to coincide with each new art season at Plateau.
The Gun
Docklands
The Gun
Image source: Bon Vivant
For hearty British pub grub in a rustic venue, look no further than The Gun, situated on London's docklands with views of the 02 Arena and the River Thames. With the venue dating back to the early eighteenth century, it has been a public house for over 250 years, and the age-old feel has been maintained through the log filled arches, a wooden terrace, open fires and hanging taxidermy.