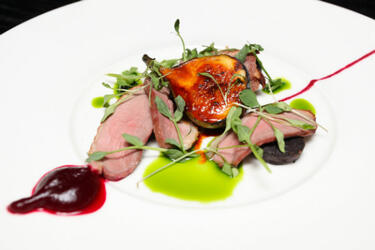 Top Celebrity Hangout Restaurants in London
London is no stranger to global superstars, and nor are its restaurants. Follow in their culinary footsteps and you could glimpse a star over your stroganoff, sip champers with celebs, and break bread with the bigwigs. Because you won't become part of the glitterati from your sofa.
 
The City
M Threadneedle Street
Having hosted the likes of Madonna and Idris Elba at their 2016 Halloween bash, M in the City has welcomed its fair share of celeb guests. Created by the former managing director of Gaucho, their food brings the A list and mere mortals alike through the doors, serving up contemporary Asian flavours, with high grade Japanese pure Kobe fillet steak a star turn.
Bluebird
Chelsea
Bluebird
A regular Made in Chelsea haunt, Bluebird is a place to be seen, and be on the scene. The chic bar, outdoor terrace and flashy open kitchen are so very Chelsea, but the menu doesn't take a back seat. Expect the likes of handmade pasta, fresh lobster and a choice of perfectly cooked steaks.
Quaglino's
St James's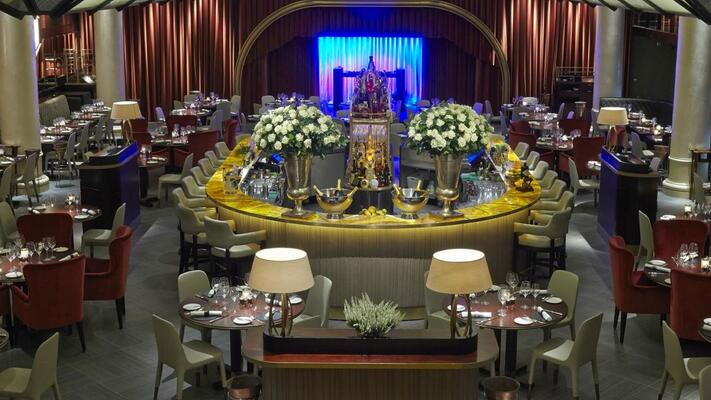 Quaglino's
A Mayfair institution, Quaglino's has been welcoming London's jet set since 1929. Served against a backdrop of live jazz, the menu is fittingly sophisticated, featuring flavour-rich creations like sea bass with grilled bok choy and oyster emulsion, pork fillet with curried cauliflower and boudin noir, and 40-day aged Angus ribeye with béarnaise.
STK
St James's
STK
Far more glamourous than your average steakhouse, STK is all about fine meat, extravagant cocktails, and even more extravagant decor. Dishes like braised USDA short rib, slow-cooked venison loin, and native lobster fish fingers are enough to draw in celeb and non-celeb diners alike.
100 Wardour Street
Keeping Soho's iconic spirit alive, 100 Wardour Street sits on the site of the old Marquee Club which played host to David Bowie and The Rolling Stones. Today, there's still live music and DJs 5 nights a week, as well as a menu of grill favourites and sharing dishes, a fantastic cocktail selection and a spectacular wine list.
Nobu
Mayfair
Nobu Berkeley Street
Counting Calvin Harris, Rita Ora, Pharrell Williams and Will.i.am amongst its past diners, Nobu certainly attracts a high calibre of global stars. Co-owned by Robert De Niro, it's hardly surprising. The food fuses Japanese and Peruvian cuisine, all served, unsurprisingly, in a sleek, sophisticated dining space.
Chilternfirehouse
Soho
Chiltern Firehouse
Image source: Chiltern Firehouse
Being photographed coming out of Chiltern Firehouse has seemingly become a rite of passage for celebrities in London over the last couple of years. Renowned chef Nuno Mendes is clearly doing something right, with his highly Instagrammable dishes ensuring Chiltern Firehouse is rarely out of the limelight.
The Ivy
Covent Garden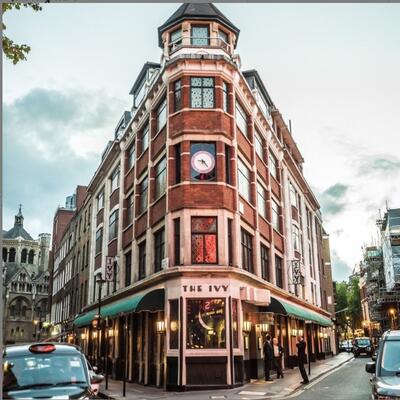 The Ivy
Image source: Miss Jones PA
Think celebrity restaurants in London, and the iconic Ivy will no doubt come to mind. Part of London's social scene since 1917, the celeb sightings list here could put Madame Tussaud's to shame. The Art Deco glamour and seasonal menus will no doubt keep this very British of institutions on the London must-visit list for many years to come.
Hakkasan
Mayfair
Hakkasan Mayfair
A Michelin-starred restaurant in Mayfair, it's hardly surprising that Hakkasan draws in some distinguished diners. Stars on the contemporary Chinese menu include pan-fried wagyu beef in spicy Szechuan sauce, black truffle roasted duck with tea plant mushroom, and stir-fry Australian lobster in spicy black bean sauce.
DSTRKT
Soho
DSTRKT
Too cool for vowels, DSTRKT screams Soho, from its signature cocktails to its exclusive nightclub, via dishes from the robata grill. The guest list here is quite something, having featured Gwyneth Paltrow, Kim and Kanye, and Jay Z.