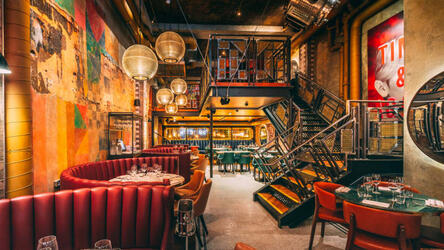 Top Soho restaurants to celebrate during Pride Month
It's Pride Month! Let's make sure we all celebrate this significant time, with fabulous food and drink to keep the parties going! To mark this wonderful occasion for all of our LGBTQ+ family and friends, TheFork have listed ten of our favourite restaurants around Soho and within walking distance of the Pride parades. Read on for our picks!
Blanchette, Soho
Soho has long been the heart of London's LGBT scene, so this romantic French restaurant Blanchette is well situated for some fine food near the festivities this Pride Month. Chef Maxime Alary runs this classic restaurant with passion and love, and makes every diner feel like a special guest. From fine seafood dishes like the Moules Marinière to delicious charcuterie boards of Saucisse Sèche and Corsican Coppa, you're guaranteed a refined experience at this neighbourhood hit restaurant.
TheFork Rating: 9.1, Open: 12pm-11pm
Old Compton Brasserie, Soho
Another Soho hotspot is the Old Compton Brasserie, serving trendy modern European fare to lovers of fine-dining in the capital this Pride Month. An menu a la carte menu of classic dishes from throughout the continent vie for your choice, from the Steak Tartare with homemade hash browns to the Duck Breast Salad. For groups, try a generous sharing board of Charcuterie and Spanish cured meats, or Baked Truffle Camembert.
TheFork Rating: 9 Open: 12pm-12pm
BOOK Old Compton Brasserie, Soho
Hudson's House, Tottenham Court Road
High-end gastropub Hudson's House is a welcoming venue situated in the right neighbourhood for a visit this Pride. With cushioned booth seating and portraits of icons and entertainers adorning the walls, this will make for an iconic spot to visit with your friends when you're in London. With a menu packed with hearty hits like the Hudson's Burger, with crispy bacon and cheese on brioche, you can enjoy their food until late closing of 2am on weekends, perfect for an after-party frolic!
TheFork Rating: 8.8, Open: 4pm-1am 
BOOK Hudson's House, Tottenham Court Road
Maoz, Holborn
This Middle-Eastern marvel will have lovers of fragrant and fancy food well looked-after if visiting the capital during Pride Month. Maoz, in Central London's Holborn, serves food with flair and confidence, making them a must visit for you and your party. Start with a spread of delicious meze hot and cold. From the Hummus topped with paprika & olive oil to the Tabbouleh of couscous, parsley, chopped tomatoes and lemon juice. Fresh Mediterranean Salads mix leaves, tomatoes, cucumber, parsley, peppers and feta cheese with pomegranate sauce. Vegatarians are spoiled for choice of dishes, such as the Cauliflower drizzled with tahini sauce.
TheFork Rating: 9, Open: 11am–3:30pm
Berenjak, Soho
Expect fragrant and far-flung flavours at this beautiful Persian restaurant in Soho, Berenjak. Named after a toasted rice snack found at fun-fairs, the team at this trendy upmarket kabab house bring a playful touch to all their dishes. Take your seats in the open kitchen and select from a regional menu. The Jujeh Kabab contains boneless chicken breast marinated in saffron, lemon, yoghurt and tomato. The Barreh Kabab Tond comes with Lamb rump chunks marinated in chilli, tarragon and yoghurt. Or, try a hearty folk favourite like Ghormeh Sabzi, a fine Lamb stew with kidney beans, dried lime and mixed herbs.
TheFork Rating: 9.8, Open: 5.30pm-11pm
Hoppers, Soho
This fabulous restaurant concept brings fragrant, family-style Sri Lankan cooking to the heart of London, with a Michelin seal of approval. From restaurateur family the Sethis, founders of Gymkhana, new concept Hoppers brings a casual approach that will go down a hit with diners celebrating Pride this month. Street-food snacks to start include Banana Chips, Curry Leaf Peanuts and traditional Lanka Mixture. For your mains, choose a traditional Dosa, and dip it into one of their fantastic karis.
TheFork Rating: 9.2, Open: 12pm-3pm, 5pm-10.45pm 
Sola, Soho
Head chef Salvadore Greco brings the passion of his native Sicily to the kitchen of Sola in Soho, a specialist in serving fine-food in American-style glamour. Credited with a Michelin star for their skill and culinary expertise, Sola will serve you some of the best food in the city should you be lucky enough to bag a reservation there this Pride month. While on the more premium end of the range, you are sure to be treated to luxury in dishes like the Foie Gras with Stone Fruit, Yuzu and Smoked Duck, or the Salt Marsh Lamb with Wild Garlic, Chickpea and Sansho.
TheFork Rating: 9.4, Open: 12pm–3pm, 6pm–10pm 
Lina Stores, Soho
Lovers of fine, family-cooked Italian food will feel right at home at Lina Stores in Soho, where they can have a Pride month of pure Pasta goodness. After starters of home-baked rosemary Focaccia and Arancini rice balls, take your pick, if you can, from a selection of signature pasta dishes. Gnudi alla Sorrentina of Ricotta & Spinach Gnudi with Tomato Sauce and Parmigiano Reggiano. Ravioli d'Anatra made from Duck, Porcini, Chestnuts & Thyme wrapped in wheat Marsala ravioli.
TheFork Rating: 9.5,Open: 12pm–3pm, 6pm–10pm
Beijing Dumpling, Chinatown
If you are a lover of Asian food and coming to London for Pride Month, then you should go and see the good people at Beijing Dumpling for all your dumpling desires! Eaten for centuries in China and throughout Asia, these little parcels of joy come served in a variety of folds and with sumptuous fillings of meat and vegetables! If you prefer something more along the lines of classic takeaway, then the Crispy Aromatic Duck with pancakes will never disappoint!
TheFork Rating: 8.8, Open: 12pm-11.30pm 
BOOK Beijing Dumpling, Chinatown
Co & Ko, Oxford Circus
Bringing the ultra-trendy Korean cuisine to London, Co & Ko is a solid pick if you want something modern, hip and hot this Pride Month! Bringing the culinary trends of Seoul to the streets of Central, expect to be transported to the land of BTS and KFC, Korean Fried Chicken. The K-Pop Chicken original combines the two in one fun dish, with a homemade sweet sauce, or a Honey & Soy based version for extra sticky tang. The seafood aspects of the menu are shown off in the deep-fried Prawn wrapped in Kataifi with a red pepper sauce.
TheFork Rating: 8.9, Open: 12pm-10pm