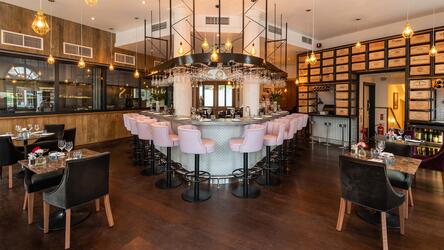 With Father's Day coming up this weekend, it's important to do something special for the first and always-most-important man in your life. We definitely wouldn't be here without them, and we think that deserves a special thanks! Show what a good kid you are and treat your Dad at a top restaurant for Father's Day. To make things easy for you, we've compiled a list of our best picks.
If you'd like to treat your dad to a royally nice meal out this Father's Day, then you would do well to get a table at Hampton's Bar & Courtyard, near London's St James' Park. Situated in Her Majesty's own back-garden, this timeless courtyard restaurant near Buckingham Gate promises an unforgettable time.
The first thing you will notice about Hampton's Bar & Courtyard is the opulent fountain around which the tables are arranged. Food here provides traditional favorites with a cosmopolitan twist. Small plates such as the Salt & Pepper Squid Tempura, and Desi-style Scotch Eggs are sure to delight, or perhaps a vegetarian Burrata and Kale Chaat. Larger plates provide hearty plates for you to pore over, like the Coronation Malai Chicken, or Scattered Stroganoff Made from Prime angus, ground spices, chive crème fraise, mushroom pate and served with toasted brioche.
TheFork Rating: 9 Open: 10am-10pm YUMS loyalty points accepted
Treat your papa to some pizza this Father's Day at Quadra, in West London's Fulham. A neighbourhood favorite since it opened. Cooking the freshest ingredients in a unique slow-cook clay oven method, this is a refined take on a classic, for a refined gentleman!
Located on the pleasant Parson's Green Lane, enjoy a meal together that is both casual and critically acclaimed. They use flour that is entirely natural for a more refined and authentic flavour, in classic flavour combinations like the Margherita and the Capricciosa. To ease you in to your pizza pie, try their selection of tasteful starters, from the Arancini rice balls, to natural Burrata to the warm Focaccia bread.
TheFork Rating: 9.5 Open: 12pm-11pm 
If your Dad is a bit of a golden oldie, then stick to the classics this Father's Day with the Palm Court Brasserie in Covent Garden, who serve French and Mediterranean style cuisine in this 1920s-style brasserie. On the aptly named King Street, you can expect to enjoy a real feast, so make papa feel like royalty when you book through TheFork.
If starters of French Onion Soup or Chicken Liver Parfait with red onion chutney take your fancy, then they're yours to try, at fantastic value. If Dad likes a salad, then try the Duck Leg Confit or the Nicoisse salads. Main dishes are suitably decadent. From the Grilled sea bass fillet with French beans and black olives to the Rack of lamb with a confit aubergine and served with roasted vine tomatoes in a port jus.
TheFork Rating: 9.2 Open: 12pm-11pm
Soho Lively Soho hangout Heddon Yokocho brings London diners a celebration of everything Ramen and other delicious types of regional Japanese cuisine. If your Dad has a love for the Tokyo dining experience, or is simply a fan of a good noodle dish, then he will love this trendy elevated street-food spot.
The menu here is an education in Japanese culinary culture. From the Hirata buns to start, you know you're in for a treat, with fillings of BBQ pork and crispy fried chicken karaage. Classic sushi rolls are done very well here, unsurprisingly, from the Salmon Avocado to the Vegan Roll with Kanpyo Gourd, Cucumber, Marinated Fried Tofu and Sesame. The real decision, though, is which Ramen bowl to go for, with mouth-watering options for meat-lovers and vegetarian diners alike.
TheFork Rating: 8.6 Open: 12pm-10.30pm
If your father has an appetite for something vibrant and explorative, then treat him to a trip to the home of the best levantine food in London. Bala Baya specialises in dishes from Tel Aviv and the surrounding region, all served in sumptuous style in modern, airy Southwark surroundings.
Celebrating the passion of owner, Chef Eran, the menu here is a journey through the culinary traditions and tricks gleaned from his trips throughout the Middle East. Meze-style sharers to start are sure to satisfy, like the Levantine Olive Mix with Harissa spice, Cauliflower Steak Crumble with pomegranate syrup or Prawn Baklava with kadaif and bitter lime syrup. Special variants on classic shakshuka make up a brunch menu that will simply call to you after a boozy Father's Day drink!
TheFork Rating: 9.2 Open:12–3pm, 5–11pm YUMS loyalty points accepted
If your father is a bit of a foodie and knows his fine wine from his pub plonk, then don't risk a let-down and book him in at the upmarket wine workshop and kitchen 28-50, in Chelsea. On King's Road and with a statement facade to welcome you to an al fresco table, this sophisticated West London spot might have a table with your name on it, when you reserve through The Fork.
Tasteful starters like Nocerella Olives, Smoked Almonds and Potato & Cheese Croquettes with tangy Bacon jam will set you up for a heartily satisfying meal. Moving on, the Beef Tartare, with egg yolk, sourdough and beef drippings is excellent. If Dad is more into his seafood, then the Grilled Tiger Prawns with aioli will make his day, or perhaps a half dozen freshly sourced Oysters with champagne, to make the occasion truly special.
TheFork Rating: 9.1 Open: 12pm-12am YUMS loyalty points accepted
At Chai Thali, chef Negi Singh commands a well-oiled kitchen, and produces some of the most fragrant and flavoursome dishes in the borough. Once known for its rockstars and music scene, Camden is now becoming something of a new destination for food, with this authentic Indian food specialist leading the pack.
Expect all your favourites from the cuisine, from the Chili Paneer to the Vegetable and Lamb Samosas. For an inventive flip on classic combinations, try the Masala Wedges, or the Bhaaji Pav Fondue. The Saag curries provide the most tender meat and the richest sauces, with steamed rice, rotis and naans to soak up the flavour.
TheFork Rating: 9.3 Open: 12pm-10.30pm
If your Father loves a traditional fine-dining spot with some history behind it, then look no further than The Lanesborough Grill, inside the famous luxury hotel. With a classic dining room replete with two impressive crystal chandeliers, the team behind this timeless location will have your Dad feeling as special as he deserves.
Chef Shay Cooper's menu is a modern marvel of high-end cuisine. With a special Father's Day menu on offer for £70 a head, you can explore it in full, for less. Appetisers of Coronation crab salad with curry and lime sabayon or Hereford beef tartare with cauliflower mushroom, sherry and truffle make for a difficult decision. Entrée courses of Roast sirloin of Hereford beef with creamed horseradish and Yorkshire pudding, and Salt marsh lamb on a sweetbread bun with glazed turnip, make for truly memorable takes on Dad's favourite traditional dishes.
TheFork Rating: 9.3 Open: 8am-10pm