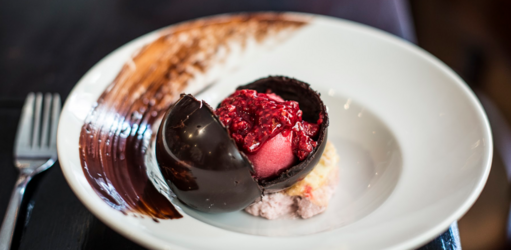 THIS WEEK: The London restaurants trialling dessert-first menus to satisfy pudding mad Londoners
TheFork, offers first-ever "Dessert First" dining experience for one week from 28th March - 4th April partnering with restaurants across London

To satisfy dessert-crazy Londoners, restaurant booking platform TheFork is trialling a first-ever "dessert-first" dining experience for one week from 28th March - 4th April.
The unique scheme will allow Londoners to follow new menu layouts and turn their traditional meal journeys on their heads by being given the option to order their puddings first to avoid missing out on their favourite course. 
Available at five locations across London, the Dessert First week will run in seven different restaurant locations across London to help the 70% of Londoners struggling with "pudding pressure" – aka the feeling of being too embarrassed to order a sweet treat if no one else in their party is, as well as nearly 60% left feeling unable to give in to their sweet tooth cravings due to overindulging at the start of the meal and leaving no room.
Proving the proof really is in the pudding, the experience will be available for a limited time only. In order to try the new dining experience, TheFork has teamed up with seven leading restaurants across London:
28-50, Fitzrovia, South Kensington, Chelsea, Marylebone 
For Londoners who love great food and fine wine, you'll love 28º–50º Marylebone.  The 28°-50° Wine Workshop & Kitchen concept takes the traditional wine bar experience to a whole new level, with impeccable food and extensive wine choices. Visit to enjoy fantastic service in a relaxed, approachable atmosphere with stylish surroundings.
Hush, Mayfair
Tucked away in a hidden courtyard in the historic heart of Mayfair, Hush remains one of London's favourite dining destinations, encompassing two dining spaces, an award-winning cocktail lounge, The Bar At Hush, extensive private dining options and one of the very best outdoor dining spaces in London. 
Silver Birch, Chiswick 
Found in Chiswick, Sliver Birch is a new neighbourhood restaurant serving a seasonal locally sourced menu. Featured in the Michelin Guide, the restaurant is perfect for Londoners looking for somewhere more intimate to satisfy their sweet tooth.
Mathura, Westminster 
In the heart of Westminster, Michelin recognised Atul Kochhar is the mastermind behind the Indian inspired dishes and desserts where heritage and innovation meet. Mathura is a great fit for Londoners wanting to experience something different and enjoy an evening with a big group of friends – celebrating the essence and flavour of India and its neighbouring countries.
Patrick Hooykaas, Managing Director at TheFork said: "TheFork is all about bringing happiness through amazing dining experiences, that's why we've created Dessert First Week, giving the 75% of Londoners who prefer puddings over any other course the option to turn the traditional dining experience on its head and let people be dictated by their taste buds and not by convention. We hope this is a refreshing reminder that there are no rules when it comes to dining out – if you want to eat dessert first, or nothing but dessert be our guest!"
Jennifer Atkins, Sales Manager at 28-50, TheFork Restaurant partner commented: "Dessert First week is an interesting take on how we traditionally format our meal, so we wanted all of our clients across the capital to try it! Our food is Modern European but has a lot of French influence due to our background. The French are known for their sweet tooth, so we put a lot of effort into our desserts and their wine pairings. There are so many interesting combinations to discover, and we look forward to opening those doors to our clients, wherever they may be across London!"
As part of the study, the findings also shone a light on Brits' favourite dessert – British favourite, Sticky toffee pudding topped the charts at number one with other classics including Profiteroles, Queen of Puddings and Lemon Soufflé all making the top ten.
Visit

www.thefork.co.uk

or download TheFork app from the

Apple

and

Google

app stores now to discover something new and make a booking.