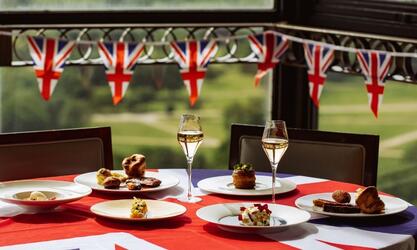 This weekend, dine out and celebrate the Queen's Platinum Jubilee. Mark the occasion in style and get a reservation at one of the best restaurants in town - yours with 50% off food as part of TheFork Festival, running from now until July 5th!
To get you feeling ready for a royal weekend, we've listed some of the finest restaurants that will be courting you for your custom. Make a choice fit for a queen after you read our fabulous list of where to dine out to celebrate the Jubilee Weekend and get 50% off food.
Entering Shezan, in Knightsbridge, is like stepping into a treasure trove of regional artworks and antiques. Like an Indian fantasy that will transport you to the romance of the Raj and the palaces of Mumbai, this might be the closest you can get to experiencing a royal banquet on one of the Queen's visits to India. Gorge on shuurat appetisers and freshly made soups of lobster and Mulligatawny varieties that provide expert blends of flavour. With an impressive rating of 9.3 and 50% off during TheFork Festival, you can go all out for less. Try the chef's specialty, Raan Masala: a whole leg of lamb left to marinate in exotic mild spices and slow roasted to perfection. To find Shezan, just look for Knightsbridge's Cheval Place, you may have to leave your horse at home, though!
Mercante is bringing the rustic charm of the Italian provinces to diners in London's Piccadilly, earning it a respectable 8.7 from TheFork's users. With 50% off during TheFork Festival, you can explore the whole menu. From the cichetti sharers of Olives, Focaccia, Bruschetta and Arancini, to small-plates like the Croquette Of Delica pumpkin with Prociutto & Provolone cheese. Among the classic Italian main dishes - like Risotto, Chicken Milanese and Beef Carpaccio - there are many delicacies to be discovered. London has a well-storied tradition of great restaurants from its Italian community, and Mercante certainly upholds the tradition.
This ultra-cool Soho hangout, House of Ho, is ready to receive you and your party this Jubilee Weekend. Wine and dine in splendour in surroundings that could be Hong Kong, destination of many a royal visit by her Majesty. With a masterful menu of Pan-Asian delicacies earning them a solid 8.7 on TheFork, you can experience top-tier Asian cuisine without leaving Central London. Edamame and Vietnamese Crackers with Salsa offer something fresh, the Crispy Silken Tofu with Chilli & Garlic is impossibly subtle, and the Crispy Prawn Toast with Sesame Seeds & Sweet Chilli Sauce provides something familiar yet unforgettable.
Sporting a charming frontage and classic restaurant-style canopy, this little gem is the perfect pasta place to hit after a joy-filled day celebrating the Jubilee. Pane Cunzato serves hearty Italian cuisine made from the finest fresh produce. Tantalising appetisers will delight, from the Arancini Rice Balls to the homemade bread with Pecorino dip. If you're in a pair, you must try the Sapori Di Sicilia, a selection of Sicilian cured meats & cheese, served with sundried tomatoes, artichokes and sourdough homemade bread. As we are celebrating our matriarchs, you must try Mama Mariagrazia's own Parmigiana Di Melanzane, made from fried aubergines, tomato sauce, mozzarella and a sprinkling of Parmigiano cheese.
BOOK Pane Cunzato, Museum Street
28-50 is fast becoming an institution in London, and its most recent location in Oxford Circus now brings the sought-after name to its most Central spot yet. Having made its mark in South Kensington, and picked up a score of 9.2 on TheFork, you can now stop by Julien Baris' 28-50 after a stint at the shops near London's Oxford Street. If you're seeking some refined food as part of Jubilee weekend, may we suggest one of 28-50's masterful dishes. With 50% off during TheFork Festival, you can have carte blanche of dishes like the Artichoke Tempura with Aioli, the Steak Tartare with capers and shallots, or the Octopus Ceviche, with red onion, fennel,
Step through the beautiful floral entrance at Broski Lounge on Warren Street, Chef Moustafa El Housry cooks up mouth-watering food from the Levantine region, served alongside the finest Shisha that will transport you away in a cloud of smoke. If you fancy something exotic this Jubilee weekend, then this menu might be for you. From delicious fresh salads to start; Lettuce, cucumber, peppers and tomatoes with olive oil lemon dressing and Za'atar topped with Grilled Halloumi and pomegranate molasses, Falafel, Moussaka and Calamari. The iconic Shakshuka is a skillet of baked tomatoes, peppers and onions topped with free-range eggs and served with authentic bread.
BOOK Broski Lounge, Warren Street
 
To the opulent borough of Kensington where Big Fernand serves Hamburgers, American style, to the area's well-heeled clientele. This year the famed burger joint, proud owner of a 8.7 TheFork rating, will be taking part in TheFork festival, offering its mouth-watering menu at a generous discount of 50% off. This allows you and your party to gorge yourself this Jubilee Weekend on some of their signature patties. From Le big fernand, beef with Tomme de Savoie cheese, sun-dried tomatoes, parsley and Big Fernand cocktail sauce, to Le Regal Du Poule, perfect chicken breast with Tomme de Savoie cheese, bacon, caramelised onions and chipotle mayo chives, the burgers here showcase the finest in French-American cuisine.